Rono the K-9 begins making rounds at UC Davis Medical Center
New am-bark-ssador
Rono the K-9 begins making rounds at UC Davis Medical Center
SACRAMENTO — Last week, the newest member of the UC Davis Health community began making the rounds at the hospital – with tongue lagging and tail wagging.
On the afternoon of Thursday, July 16, Rono – the UC Davis Police Department's new K-9 – was "sworn in" during a ceremony attended by UC Davis Medical Center interim CEO Brad Simmons, Chief Nursing and Patient Services Officer Toby Marsh, Police Captain Mark Brunet and other officers and staff. Lt. Danny Sheffield did the honors and affixed the official badge to Rono's collar.
The one-year-old German Shepherd worked hard to earn his star. Despite the COVID-19 pandemic, Rono was able to complete a grueling 17-week training course at California Highway Patrol Academy. Other than a little mishap that led to a tooth being pulled, Rono did a "wonderful job," according to his partner, Officer Eric Palmer.
"As with any K-9 class, each dog has its strong points and quirks," Palmer explained. "Rono always enjoyed his training, both odor and handler protection, but would get rambunctious when he got his toy – and did not like to give it back." (This introductory video and message conveys a sense of Rono's playful doggedness.)
Meet Rono the new police K-9 at UC Davis Medical Center in this 1-minute video.
Following his swearing-in last Thursday, Rono "em-barked" on his patrols of UC Davis Medical Center. Palmer said that during Rono's first week on the beat he introduced himself to personnel in the Emergency Department and other departments.
"Rono has shown to be sociable with hospital staff," Palmer said. "He loves attention, but we want to make sure he does not get overwhelmed with multiple people surrounding him at once."
Although Palmer encourages staff and visitors to say "hi" to Rono, he advises people not to cluster around the young K-9, and to avoid making any quick movements or loud noises that might startle him.
Palmer also recommended that people give an advance warning before approaching Rono in the hallways. And staff members who are not totally comfortable around dogs can still get to know Rono, if they'd like.
"If someone is unsure or uncomfortable but want to meet Rono, it would be easier in a quiet, one-on-one setting for an introduction," Palmer said.
Initially, Rono will be on the overnight shift, when there are fewer people. Although he enjoyed the training process, Rono's also eager to get to work and meet his "co-woofers." With one caveat.
"It may take some time to adjust to graveyard shift," Palmer said, "because he has never had to stay up late!"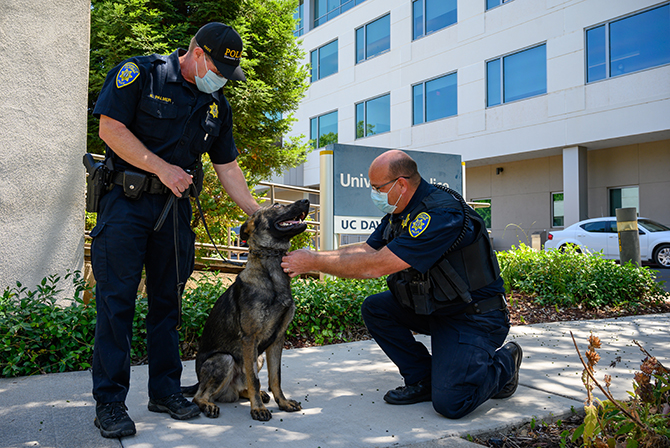 Primary Category
Tags