Serving student needs, with student partners
In serving an institution of learning and research, the UC Davis Police Department strives to exceed the expectations of our campus community. We affirm the UC Davis Principles of Community and not only serve the needs of students — but seek to partner with students to advance campus safety and security.
Hiring from the student community
One of our goals is to have a police force that reflects the demographics of the people we serve. What better way to reflect UC Davis than to hire current students and graduates, who can bring their student experience to bear on patrol?
Each year about 120 current students work with the Police Department as Aggie Hosts, patrolling campus, assisting with security at events and in select buildings, and offering Safe Rides.
We run the UC Davis Cadet Academy as an educational opportunity for current students considering careers in law enforcement — but also as a potential on-ramp to getting hired as a UC Davis police officer. Since 2013, 10 UC Davis police officers have been Aggie alumni who attended the UC Davis Police Department's Cadet Academy, with more alumni cadets taking on this challenge each year.
How UC Davis students are most likely to interact with campus police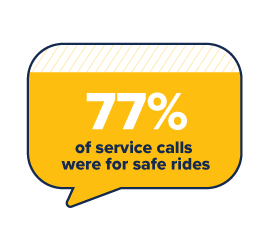 The single most common way that UC Davis students interact with the campus Police Department is through our Safe Rides service, which provides secure rides or escorts after dark on campus, late night between campus and city locations, and all day for wheelchair users.
In 2019, we answered more than 47,000 calls for Safe Rides. That means 77% of all service calls to UC Davis Police were requests for a Safe Ride.
Supporting students in their safety and education
Of course we keep an eye out for bicyclists too, as part of the Bicycle Education and Enforcement Program (BEEP), with an online bike safety training course and giveaways of bike lights to campus riders.
We also offer several casual educational opportunities for students interested in learning more about how police officers work, even if they might not be interested in law enforcement careers. Our Community Academy introduces students to policing topics over eight weeks, and our one-day International Academy is tailored for international students. We also offer the opportunity to spend a couple of hours with a UC Davis officer via our Ride Along program.
Where you won't see us
Our policies related to crowd control, protests and use of force have changed. We work as guardians of campus safety, rather than warriors. If protestors are exercising their rights peacefully, officers do not need to be present. We have greatly reduced the numbers of citations and arrests during recent Picnic Day celebrations, instead keeping the peace with warnings and lessons. Learn more about the UC Davis Difference in police leadership, policies and practices.