We track crime — to raise awareness, prevention and support
The UC Davis Police Department is committed to protecting the safety and security of all students, staff, faculty, and visitors to our campus. UC Davis police officers patrol the Davis campus and Sacramento campus 24 hours a day, 365 days a year, to enforce applicable local, state, and federal laws with arrests, investigations and emergency response.
The department is dedicated to providing accurate and complete crime statistics and other information regarding crimes committed in the campus community. Many aspects of this data collection are legally mandated. This information — including emergency warnings, timely notifications of certain types of crimes, daily crime logs, and other crime reporting disclosures — helps make UC Davis a safer place.
Police use of force at UC Davis
Many discussions of police reform focus on the use of force by police officers.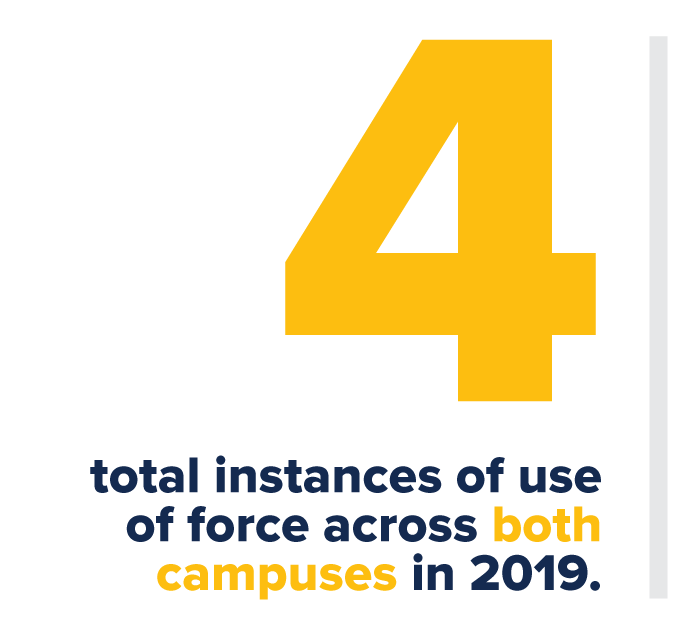 In 2019, UC Davis police officers used force in a total of four incidents, between the Davis and Sacramento campuses. None of those use-of-force incidents resulted in serious bodily injury or death or involved the discharge of a firearm — which the department is legally required to report to the California Department of Justice.
UC Davis Police Department policy regarding use of force also complies with the eight policies highlighted by the #8Can'tWait advocacy campaign, which seeks to restrict use of force by police with policies such as banning chokeholds, requiring de-escalation, exhausting alternatives before shooting and other related policies.
Alerting campus to crimes in real-time
UC Davis uses a mass notification system called WarnMe to alert the Davis and Sacramento campuses in the event of an emergency. The system can send simultaneous messages to members of the university community by email, telephone, cell phone, and text message, with the ability to contact specific segments or groups of individuals by location.

The UC Davis Police Department also promptly notifies the Davis or Sacramento campus of any incident of criminal activity that poses a potential serious or continuing threat through a timely warning. These messages are sent to the campus community by email and can be accessed online.
Encouraging campus 'upstanders' to intervene

In 2016, UC Davis introduced the upstander campaign to encourage bystander intervention and create a culture to help end sexual violence. An upstander is someone who takes active, intentional steps to stop sexual assault, domestic violence, dating violence and stalking. Being an upstander is synonymous with being an Aggie:


Act
Get help
Give support
Intervene in a safe manner
Encourage others to speak out
Investigating hate crime and incidents of bias
The UC Davis Police Department takes incidents of hate or bias seriously, and all such incidents are investigated — whether or not a crime has been committed. A hate incident is non-criminal conduct that might include hate speech, display of offensive materials on one's property, the distribution of hate materials in public places and the posting of hate materials that does not result in property damage.

In 2018, there was one hate crime reported on the UC Davis campus.

Though rare, hate crimes and hate incidents can have outsized impact on our community. A variety of campus resource centers are available to offer support and guidance. Learn more about resources and policing hate incidents on campus.
Responding to reports of sexual violence

UC Davis takes all complaints of sexual violence seriously. Maintaining the safety of our students, academics and staff is top priority. We are committed to ensuring all individuals can participate in university activities in an atmosphere free of harassment and violence. Behaviors such as sexual assault, dating violence, domestic violence and stalking violate university policy and may also violate the law.



We recognize the potentially traumatizing effects of being a victim of crime and are committed to providing support to anyone victimized on the UC Davis campuses. The UC Davis Center for Advocacy, Resources and Education (CARE) has on-call victim advocates available around the clock. All advocacy services are confidential, free and available to any UC Davis affiliate, student, academic or staff member.

Learn more about support services for sexual violence prevention and response.