How do UC Davis police connect with students? In class, of course
After nine weeks of instruction, students and community members graduate from UC Davis Community Police Academy
A chance to better understand how UC Davis police officers work brought together a mix of students and community members for nine weeks of classes this fall. The 16 participants officially graduated from the UC Davis Community Police Academy on Wednesday, Dec. 4.
Michael Alcantar, Rodrigo Altamirano, Sarah Calvert, Jenny E. Choc, Ruth Garcia-Espino, Alven Guo, Aaron Hernandez, Evelyn Juarez, Briceida Magaña Cardenas, Michelle Merida, Ron Pasquinelli, Yoselin Patino, Johanna Reyes Gallegos, Giulianna Vargas, Andrew Wyly and Jenny Xia were among the graduates of the UC Davis Community Police Academy.
UC Davis students were able to earn two credits for the class. In addition to students, four community members (including three UC Davis staff members) joined to learn more about local law enforcement.
Johanna Reyes Gallegos, a first-year student majoring in Sociology (emphasis on Law and Society), explained she took the class as a first step toward her career goals.
"I want to work for the FBI as a special agent, but I need somewhere to start," she said. "This is the closest I can get here at UC Davis. When I have junior standing, I hope to join the Cadet Academy and get more hands-on experience."
One of the community members who sat in on the class explained he joined to get "insight into our police force."
"I was just curious to get to know the officers better. I live in Davis, so have a lot of invested buy-in as a community member," said Andrew Wyly, who is also a UC Davis staff member at Unitrans.
Officer Mikio McCulloch was the instructor for the course — along with several guest speakers — for class sessions that covered topics such as UC Davis police services, police officer roles, district attorney roles, tours of a jail and coroner's office, vehicle stops, custody and evidence processes, lethal and non-lethal use of force, and active shooter scenarios.
Lt. Michael Green explained that the Community Police Academy is a chance for interested community members — whether they are considering a career in law enforcement or just concerned about policing — to get a taste of what the UC Davis Police Department does.
"People often assume that we're here to enforce laws, and we're really more here to protect and to serve. Our focus is really to maintain the safety of everyone on campus so they can live and learn while they're here," Green said. "If this course can help that one person either find their path in a law enforcement-related career or realize officers are not all robots, I think that's a success."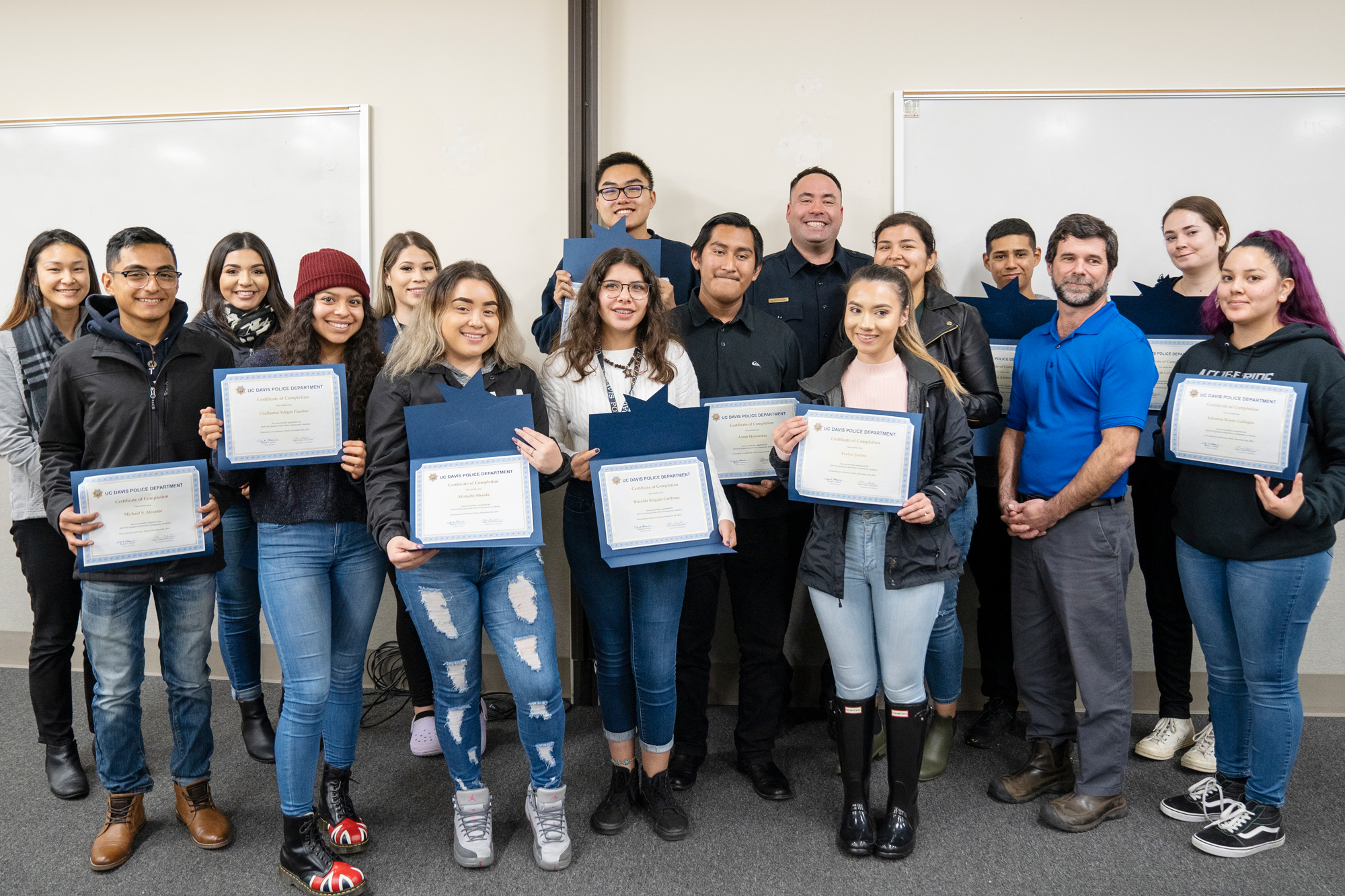 Offered annually, the next opportunity to participate in the UC Davis Community Police Academy will likely come again in Fall 2020.
In the meantime, community members who would like to learn more about campus policing are also invited to request a ride-along, to meet an officer and shadow them during two hours of their workday.
"Our community academy is all about transparency," said Joe Farrow, UC Davis police chief. "Attendees experience the day-to-day operations of our department, but also provide valuable feedback and suggestions to help us continually grow. It is a mutually rewarding program that benefits our community as well as our department."
Recruitment is also currently underway for the police department's other multi-week educational opportunity: the UC Davis Cadet Academy. Cadets meet three days a week from Jan. 11 to April 28 for a mix of physical fitness training and classroom instruction. While participants can't earn class credits for this academy, they are able to compete for a scholarship to attend the Sacramento Police Academy and eventually be hired as a police officer with the UC Davis Police Department.
Primary Category