Beyond the uniform: How Officer Tabbasum Malik found a way to give back to the UC Davis community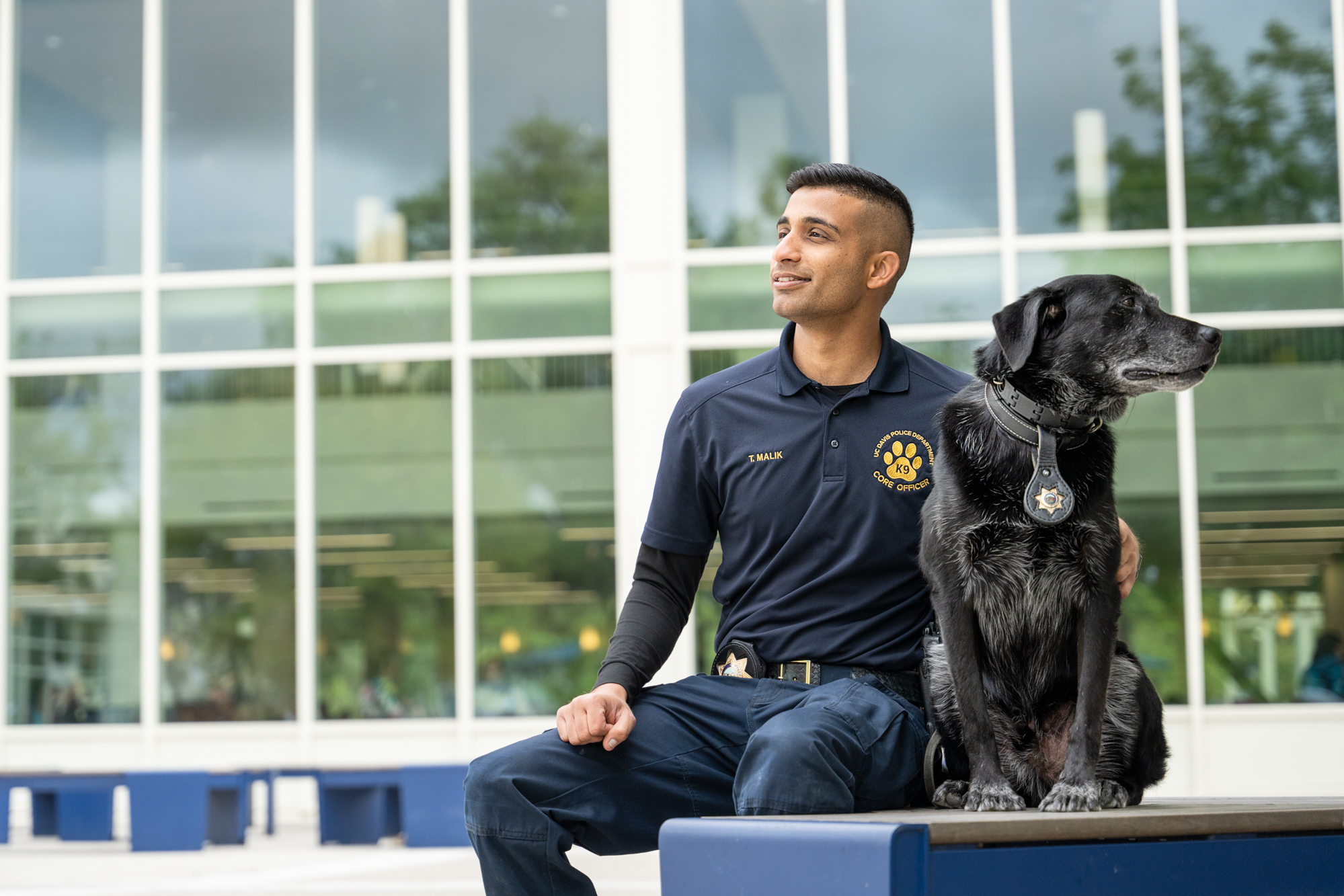 The story of how Tabbasum Malik became a UC Davis police officer is inspired by the kindness and influence of the UC Davis community.
In 2005 Officer Malik's father immigrated to the United States from Pakistan to make a new life for himself and one day bring his family to join him. Malik's father found a job at a Davis gas station and every day, UC Davis Police Officer Walt Broussard would stop by to check on Malik's father to ensure he was doing okay. This small, daily gesture of kindness helped Malik's father feel welcome in the Davis community, where he would one day give his children the same opportunity to change the lives of others. 
When Malik later joined his father in Davis as an elementary school student, he was inspired by his interactions with the university through an afterschool program that paired him with UC Davis student tutors and services from a UC Davis student-run medical clinic.  
When it came time for Malik to choose the university he would like to attend, he had no question in his mind. He wanted to attend UC Davis in the hopes of becoming a doctor and being able to give back to his community. 
"I wanted to go to UC Davis because the people here are amazing and I gravitated toward going to a place where people have helped me," Malik explained.  
"I realized that I don't have to be a doctor to bring medical aid. I don't have to be a teacher to help educate people," explained Malik. 
As a student at UC Davis, Malik double-majored in economics and neurobiology, physiology and behavior, with hopes to one day enter the medical profession. While managing his heavy academic load, he chose to volunteer with the programs that had such a dramatic impact on his life. Malik volunteered as an elementary school tutor and worked at the student-run medical clinic. In 2017, he decided to try the UC Davis Cadet Academy. 
Upon entering his interview for the cadet academy, he knew this was the place he was meant to be. The people were kind and personable, and he felt like everyone was there to genuinely help and be there for the community.  
Malik served with the UC Davis Police Department in many capacities as a student. Not only did he join the cadet program, but he also worked as an Aggie Host and in his last quarter at UC Davis, Malik joined the Sacramento Police Academy while simultaneously finishing up his degree.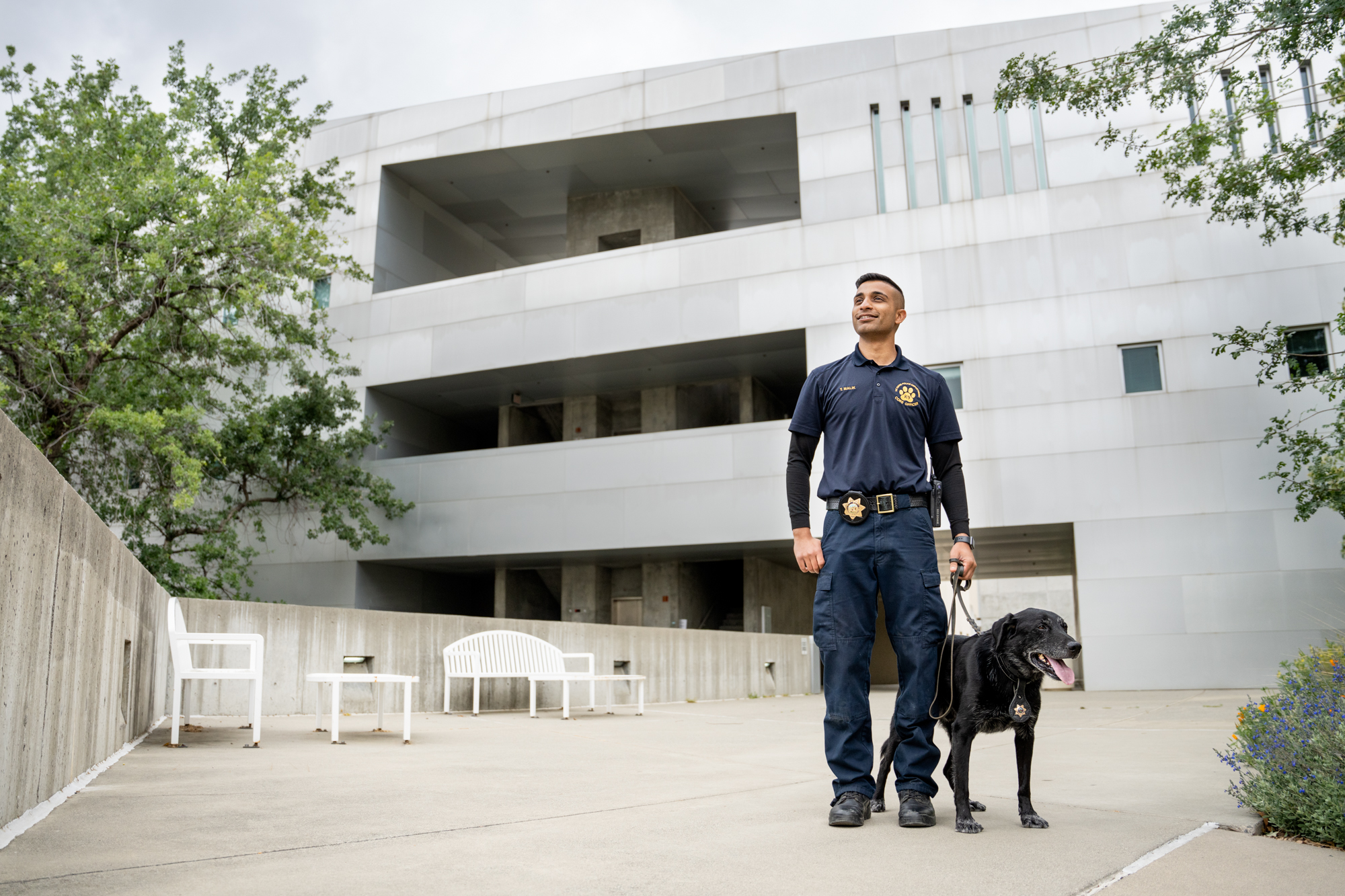 When he graduated from the police academy and finished his field training, Malik was given the opportunity to become a member of the CORE Officer team on the Davis campus. He could not wait for the chance to build relationships with students and campus organizations and help bridge the gap between law enforcement and the community.  
Being a CORE Officer has given him what he's been looking for, the chance to give back to the university that helped shape him into the person he is today. The CORE program allows students to get to know UC Davis police officers without the presence of a uniform. 
I want students to know that I am just like them. I am a person too, and I may not have the answers for everyone, but I know people who do," said Malik. "I will be here to help anyone and everyone in this community."
As a member of the CORE Officer team, Officer Malik will be on campus with retired K-9, Charlie, always ready to have a conversation and break down barriers.  
 "I want people to say hi to me and Charlie so we can talk," Malik said. "You can get to know who I am as a CORE Officer, but also learn what the department represents."  
Primary Category
Tags