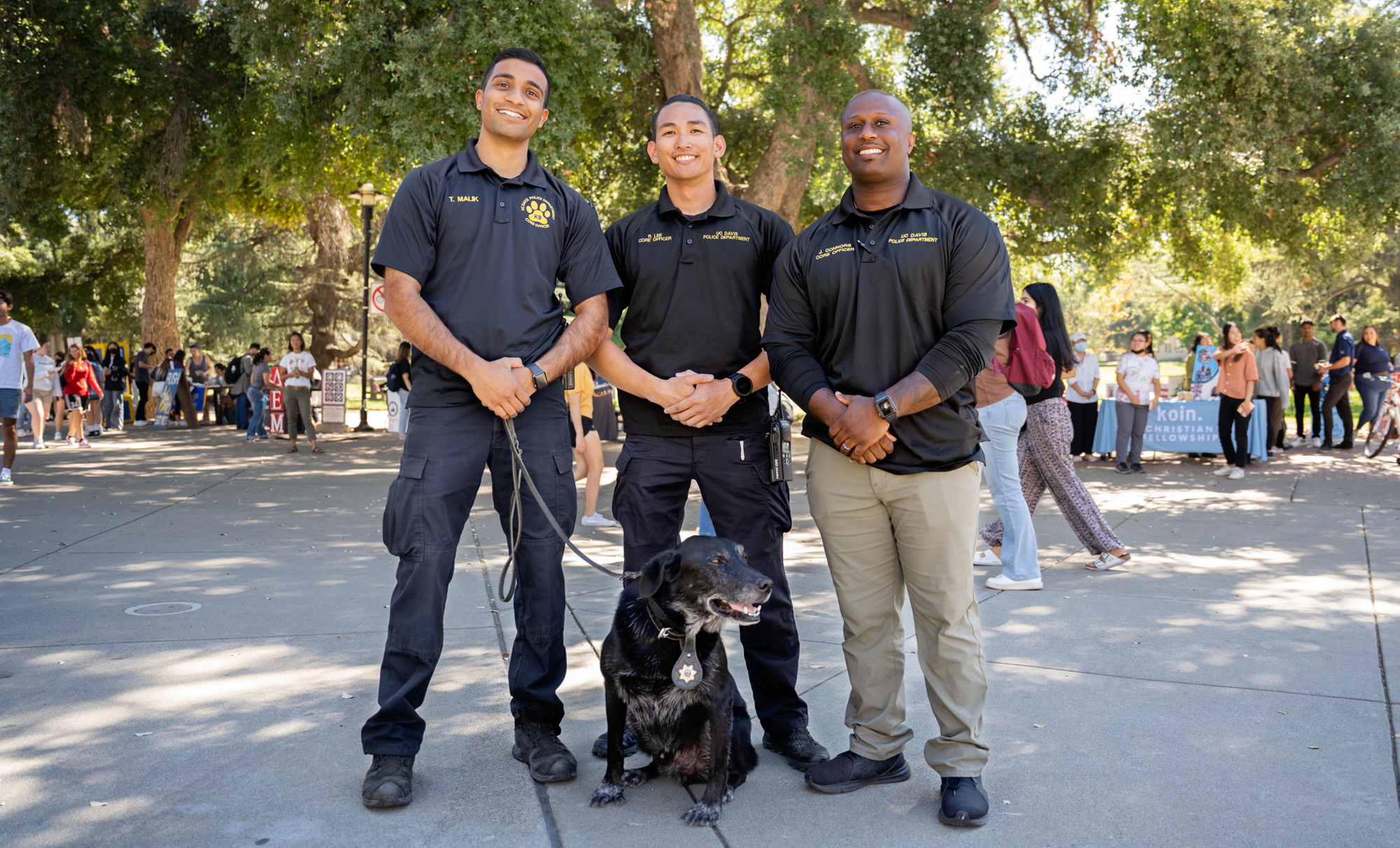 Community policing is rooted at the CORE of our campus
The CORE Officer outreach and engagement program provides an informal way for the UC Davis community to interact with the UC Davis Police Department. The nonuniformed CORE Officer provides consultation, education and support as part of UC Davis community policing efforts.
Connecting to build a safer, more inclusive community
The CORE Officer program provides outreach to student organizations, departments and individuals across campus. We would like to educate students on what to expect from their campus police department and how we can work together to build a safer, more inclusive community. Our officers strive to be guardians of our community and models for the future of campus safety. We seek to exemplify the "UC Davis Difference" by reflecting our community's values in our work. We recognize that students may come to campus with a variety of different experiences with law enforcement, and we are committed to building a positive relationship with our community.

What to expect when you call a CORE Officer for assistance
A CORE Officer can assist in a wide range of non-emergency situations. When called, an officer in plain clothes will arrive in an electric vehicle or on a bike. The officer will be able to answer questions and concerns, advise on a range of law enforcement issues, and connect you with the resources you need. Topics may include bike safety, personal safety, sexual assault or other pressing issues. The CORE Officer can discuss police involvement on campus and our commitment to the UC Davis community. Oftentimes, challenging questions lead to opportunities for connection, engagement and community education.
Contact the CORE Officers
If you are unsure as to whether you have a police matter or you do not feel comfortable calling dispatch, call or email the CORE Officer program. We are here to help you identify the next step in any situation.
CORE Officers:  Joseph Conners, Rickardo Lee, Tabbasum Malik
What does 'CORE' mean?
CORE started as an abbreviation referring to campus community outreach and engagement, but has grown to have its own meaning. We like to think of the non-uniformed CORE Officer Program as serving the core, the very heart, of campus by fostering meaningful relationships, making connections, providing assistance and seeking educational opportunities between the police department and our community. The CORE officer is focused on campus community outreach and engagement, with the aim to better serve those who may be uncomfortable with traditional police interactions.  

What is the CORE Officers' mission?
At no other time has it been so important to re-imagine service-oriented community policing, bolster trust and enhance communication. This involves adapting to the changing needs of UC Davis and to campus policing as a whole.
The goal of the CORE Officer program is to provide service in a non-enforcement capacity to students, staff, and other community members on campus. The CORE Officers also seek input on what support is needed for various communities on campus.
The CORE Officer Program decreases visibility of uniformed personnel without decreasing service. Should an emergency situation arise, a CORE Officer has the ability to pivot in order to provide support to other officers. But their primary role on campus is outreach, education and providing support to the UC Davis community in a non-traditional way.
We want our community to be heard and feel safe at UC Davis. The CORE Officer program strives to be an information option for students and community members outside of emergency situations and traditional police responses, whether it be to determine if a police report is needed, seek safety advice or provide feedback. We are committed to earning the trust of our community and ensuring that UC Davis is the safest place to learn, work, live and visit.