Officer Ricky Lee: Helping fellow Aggies grow in a safe college environment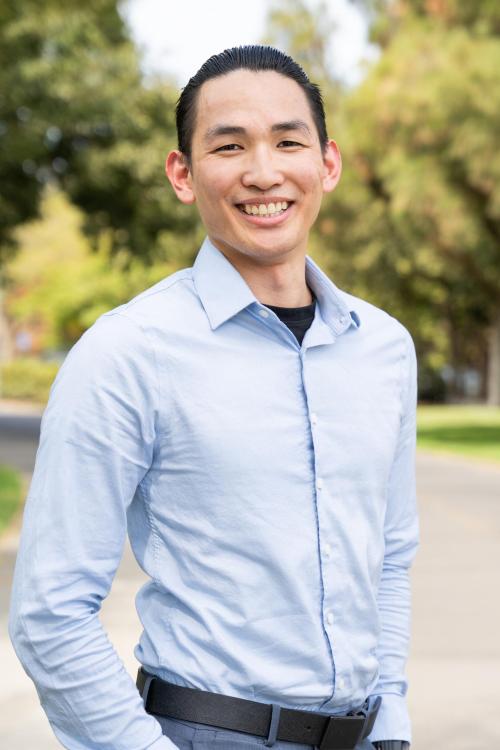 Officer Ricky Lee is one of UC Davis' newest CORE Officers and is loving his time back on the UC Davis campus. Following in his sister's footsteps, Lee first came to UC Davis as an undergraduate student to remain close to home and his Sacramento community. He majored in psychology with an emphasis in biology and planned to one day get his Ph.D. and become a researcher. His plans changed when he was introduced to the UC Davis Police Department and learned about career paths in law enforcement.
Like many other UC Davis alumni police officers, Lee first served the police department as an Aggie Host while he was a student. Lee was introduced to the Aggie Host security division one summer while working at the ARC coffee shop. The director of the Aggie Host program and other Aggie Hosts became regulars and began talking to Lee about the flexible work schedule that would allow him to work night or weekend shifts if he preferred while attending classes full time.  
Lee joined the Aggie Host program in 2013 where he gained an understanding of the police department's role on campus.  After graduation in 2016, he joined the UC Davis Cadet Academy and his interest in law enforcement grew. When he finished the campus cadet program, Lee attended the Police Academy in Sacramento in 2018 and joined the UC Davis Police Department immediately after completion.  
In his first years on patrol, Officer Lee served at UC Davis Health in Sacramento. When the opportunity arose for him to join the CORE team, Lee was eager to come back to his roots at the Davis campus. As a CORE Officer, Lee has enjoyed the opportunity to interact with students from an understanding point of view. He hopes students will seek his advice when facing difficult circumstances such as dealing with fraudulent activity and theft or when they just want to talk to someone who has been in their shoes. There are many times when students do not know all the programs UC Davis offers such as free tutoring services and other support networks; Officer Lee wants to give these insights to those students as they navigate their education at UC Davis.  
"If students need information, we are a good source for them. If we can't provide them with the information, we'll send them in the right direction to find the answers to their questions," Lee explained.  
Lee chose the UC Davis Police Department because he developed into the person he is today through his time at UC Davis. With a passion for life and helping others, Lee hopes to create an environment that fosters that same growth for students today.  
 "College was the first time I had the opportunity to really feel like I was able to choose the direction my life was going, and that was important to me," Lee said. "I hope other Aggies share that same feeling." 
Lee encourages students to take advantage of all the opportunities UC Davis has to offer including the numerous campus clubs and all the amazing restaurants in Davis. Students can also join the campus Cadet Academy or Community Academy which provide opportunities for students, employees and community members to meet the officers, see what they do and how they serve our UC Davis community.  
Learn more about our CORE Officer program! 
Primary Category
Tags