Meet the New Campus Safety Responders
They're not police officers, but six new employees with the UC Davis Police Department will soon be helping patrol campus and respond to some calls for help, along with other services to help keep the Davis campus safe.
The six new employees — three Campus Safety Specialists and three Protective Services Specialists — began onboarding in January and started field training. Around the Davis campus, you might soon see them assuming public safety duties that don't specifically require the presence of a sworn, uniformed police officer or (nonuniformed) CORE Officer.
"We're still going to have police officers available when needed, but these positions give us more options so we can respond to calls for service with the most appropriate resource. We want to meet the needs of our community in ways that might make people feel more comfortable, and these positions will enable us to do just that," said Lt. Doug Voska with the UC Davis Police Department.
These new specialists also add layers to who might respond if you call for help on campus, as outlined in an official planning document published in December called the "UC Davis Tiered Responses to Calls for 911 or Non-Emergency Assistance." The document includes the responders and services that campus dispatchers turn to, as they strive to pair any call for help with the most appropriate services and resources available.
Beyond the UC Davis Police Department, the document also takes "an inclusive approach to public safety" with information from the Fire Department, its new Health 34 division, and other campus resources for students and employees, such as timely mental health support.
"We want UC Davis students, families, employees and visitors to know that we're committed to creating an environment where everyone feels safe, heard and respected in every interaction. We continue to actively collaborate across campus to improve our safety practices," said Vice Chancellor Clare Shinnerl, who leads the Campus Safety Oversight Committee.
Three new types of responders starting soon
Protective Services Specialists started patrolling campus this weekend, after the onboarding process and brief field training as Police Department staff members who are also registered security guards.
"Our Protective Service Specialists will give us more eyes on campus especially at night, to help prevent crime, help people feel safe and deliver great customer service," Voska said.
They are equipped with yellow flashing strobe lights and carry a radio. They wear a "Security Specialist" uniform with a light blue shirt and navy pants and drive white "UC Davis Security" vehicles.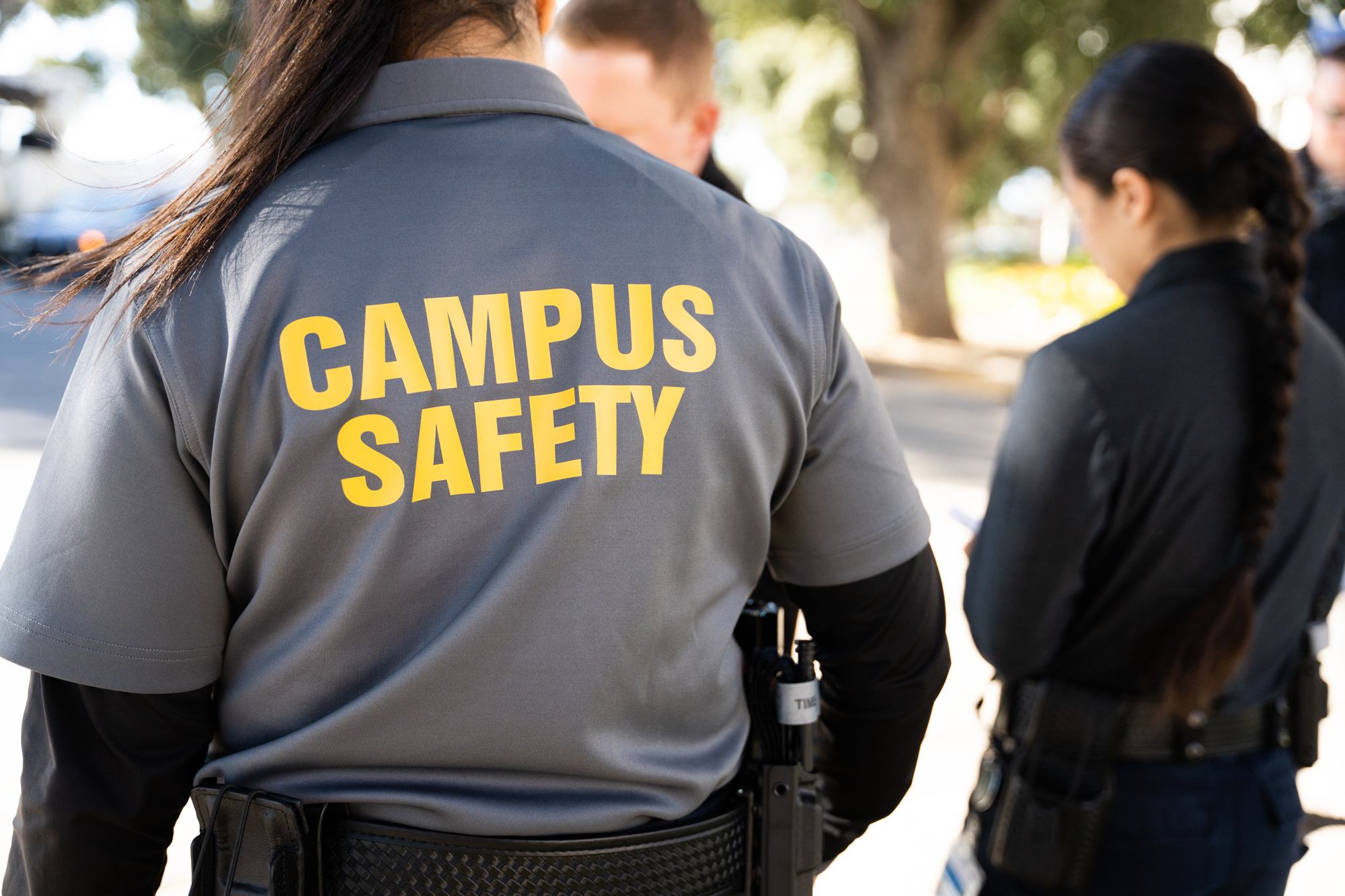 Campus Safety Specialists begin field training this week as UC Davis Police Department staff members. Beginning in late March or early April, they will be responsible for assisting with response to after-the-fact incidents (such as a report of a stolen bike or stolen laptop), leading safety trainings, taking reports, diverting traffic and patrolling specified areas. They wear grey "Campus Safety" polo shirts and navy pants and drive white "UC Davis Campus Safety" vehicles. They do not respond to emergencies, violence or enforcement situations.
Health 34 team members are in the process of being recruited and hired by the UC Davis Fire Department and will begin a series of trainings and meetings with stakeholders. Beginning later this year, the Health 34 team will respond to a new 10-digit phone number to deliver non-emergency response including mental health support and minor medical care to anyone on the Davis campus. This care team will be composed of allied health paramedics, EMTs and students from the School of Medicine and Betty Irene Moore School of Nursing on clinical rotations. Team members will intervene in advance of a crisis to foster wellness, assist with acute health issues and deliver service navigation to community members, wherever they are on campus. They will wear medical scrubs and drive a red UC Davis Fire Department vehicle.
More progress on campus safety reforms
These new campus responders and multi-tiered approach to responding to calls for help are some of the latest steps taken to improve campus safety in collaborative and inclusive ways. The changes are in response to recommendations made by University of California leaders as well as UC Davis leaders and UC Davis students.
In 2022, the UC Davis Police Department also launched a new feedback service, as a way for community members who interact with officers or other department employees to provide instant feedback on their interactions. Data from the police ratings feedback service is part of the UC Davis Police Department's Transparency Dashboard, which also includes interactive data visualizations for demographics of who has been stopped by campus police, expanded campus crime reports and other available data about the campus police department.
Find more improvements to campus safety practices on the Progress Toward Campus Safety Reforms webpage.
Primary Category
Tags