A message from the Chief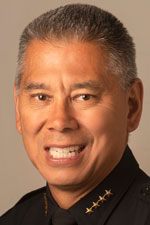 Welcome to the UCDPD website.  I hope you find what you are looking for, and if there is something we can do to help, please feel free to reach out and let us know.
Our number one priority is the safety and security of everyone in our community.
If we can do something to better serve you, or you'd like to get involved with our many outreach opportunities, please contact our Outreach & Inclusion Team.
Respectfully,
Chief Joseph A. Farrow
Office: 530-752-3113
Email: jafarrow@ucdavis.edu