Jan. 24, 2023: Burglary, UC Davis Campus
UC Davis Police Department
CLERY NOTICE | Case #: C23-0092 | Date: 01/24/2023
WHAT IS THIS NOTICE
CLERY notices are released by the UC Davis Police Department when certain crimes are reported on or near campus property, in compliance with federal law. These notifications provide information about campus safety situations, and allow campus community members to take precautions for personal safety. If you would like to learn more about why these alerts are sent to you by the UC Davis Police Department please visit the CLERY website at https://clery.memberclicks.net/the-clery-act
LOCATION OF INCIDENT | CRIME
Young Hall | 459 PC - Burglary
SUMMARY OF CRIME | INCIDENT
On 01/21/23, at approximately 1600 hours, a suspect unlawfully entered Young Hall and proceeded to use a pry tool to force entry into multiple rooms. Suspect was observed on cameras using the tool to break the doorhandle to defeat the lock.
This incident is under active investigation, but it is believed this suspect may be responsible for similar crimes reported in recent days/weeks. Some of these incidents may have been reported as a vandalism because entry was unsuccessful and no theft occurred.
Suspect: White male adult, mid 40s, unshaven, average height and build. Suspect wore a dark colored baseball cap, a blue long sleeve shirt, jeans, and a black backpack.
Please see attached still photo of the suspect and contact the police department at 530-752-1727 (nonemergency) or 911 if seen in the area. Do not attempt to contact or apprehend.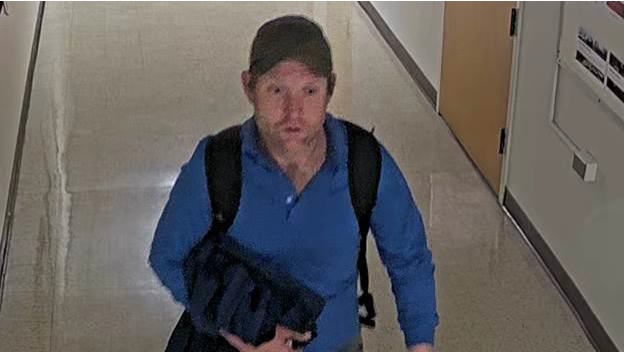 CAMPUS COMMUNITY SAFETY TIPS FROM UC DAVIS POLICE
Always be aware of your surroundings.
When community members look out for each other, they "See Something, Say Something."
Always close and lock doors and windows.
Always be alert for unusual activities and unfamiliar persons loitering in the area.
Report any suspicious activity to the UC Davis Police Department at 530-752-1727.
If you ever feel you or others are in danger, call 9-1-1.
Use UC Davis Police Safe Rides after-hours on campus by calling 530-754-COPS or download the free TransLoc App to your smartphone device.
Sergeant C. Boothe, #1015
UC Davis Police Department
Primary Category