Education for a safer campus and futures in law enforcement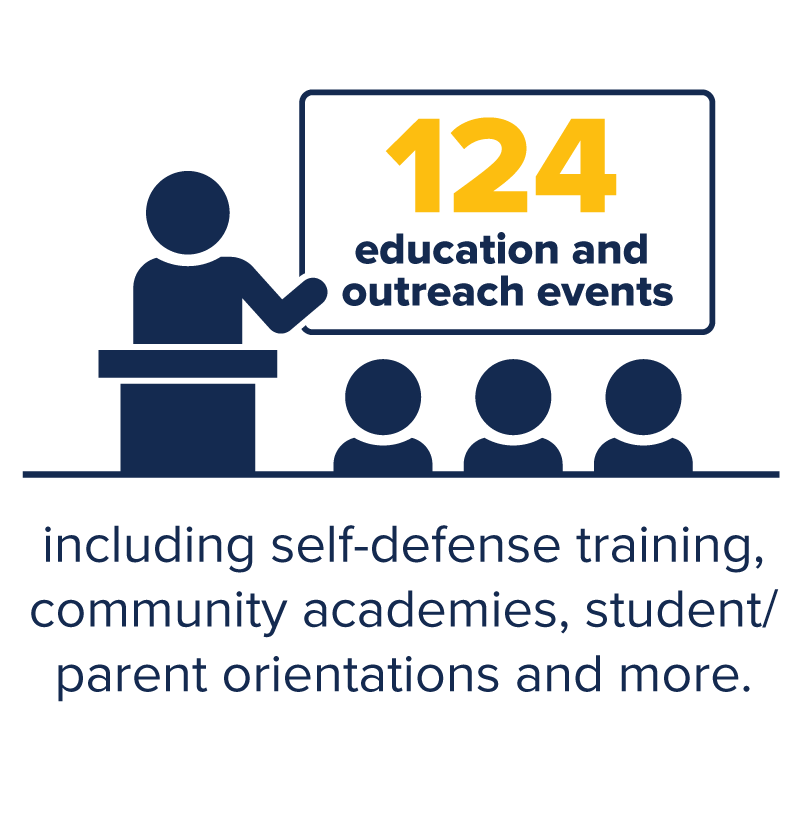 UC Davis is a safer place when all members of its community are aware and actively engaged in maintaining safety and preventing crime.
The UC Davis Police Department offers a variety of educational opportunities to the campus community. We are proud to share our safety expertise and to customize our insights for particular situations. In 2019, we participated in 124 education and outreach events. Opportunities to learn from us include safety workshops, training academies and other types of crime prevention education. We lead workshops about self defense, situational awareness, active shooter survival or other safety topics tailored to a group's needs. Our team members also participate in outreach events such as orientation sessions for new students and parents.
Schedule a Workshop
You can schedule workshops and custom safety presentations for your office, team or student group by contacting:
Find tips about safety

Even without attending an educational event. you can learn safety tips and ways to increase your situational awareness on a daily basis in both Davis and Sacramento campuses. Following these basic tips will help keep you and your personal property safe.

For bike safety in particular, we have partnered with Transportation Services to offer bicycle education and safety tips as part of the Bicycle Education and Enforcement Program (BEEP). Watch the video and find safe riding tips on the Transportation Services website.

Our Crime Prevention program seeks to empower community members to take responsibility for their own safety at school, home, work or play. Lessons also address how to anticipate a crime risk and how to reduce the threat of crime.

Students may find tips on the Safe Party website useful for safe socializing. In particular, we encourage students to be upstanders to be prepared to intervene in difficult situations to assist others.

Learn about self defense and active shooter survival

We lead a workshop on tactics to increase your likelihood of surviving an active shooter scenario. This two-hour active shooter survival workshop is offered regularly throughout the year on the Davis campus, with Staff Development and Professional Services.

There are several ways to learn about self defense at UC Davis. Self-defense classes are offered among the fitness classes at the Activities and Recreation Center through Campus Recreation. Our team also leads popular self-defense classes for groups, with choices for 90-minute, 4-hour or 8-hour sessions.

Other educational workshops can be scheduled for your group on topics such as situational awareness and dealing with hostile customers. Topics and presentations can be curtailed to your priorities and common scenarios your team may face, whether on the Davis campus, Sacramento campus or elsewhere.

Find out more about how police officers work

In 2019, we led three different Academy programs for students and community members to learn more about law enforcement and policing.



Our Police Community Academy is a free, 8-week course open to any student, academic, staff member or community member who wants to learn more about how the UC Davis Police Department works.

For international students in particular, we offer a one-day International Academy as an introduction to UC Davis policing and a chance to address unique safety issues encountered in the international community. 

The UC Davis Cadet Academy is a commitment to meeting multiple times per week for instruction and physical training, as a step toward a career in law enforcement.

For a more casual introduction, community members are also invited to meet a UC Davis police office by participating in our Ride-Along program.
 

Train for a potential career in law enforcement

The UC Davis Cadet Academy is an opportunity for upper division UC Davis students who are interested in

careers in law enforcement, forensics, criminology or other related professions. Each top cadets are also offered the opportunity to continue their training by attending the Sacramento Police Academy and seeking a paid position as Police Officer Trainees with our department.



Students may also be interested in attending the UC Davis Police Community Academy. Eligibility for this academy is open to any student, employee or community member, and is one way that students who are not yet eligible to become a cadet can become familiar with our team. Students may also be interested in signing up for our Ride-Along program, to meet and shadow an officer for a few hours during their daily patrol duties, to better prepare for future training.